New Street Worcester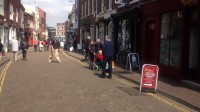 New Street Worcester
New Street Worcester
Welcome to the first post of the NEW WEBSITE promoting businesses in New Street, Worcester.
Broadcasting on NewStreetWorcester.co.uk, the website has been created to raise awareness of the businesses and the people behind the many independent enterprises in New Street.
Please feel free to drop us a line on our contact page if you have any news, views or events that would benefit our readers.
On behalf of all business owners, we look forward to seeing you in New Street, Worcester.