New Street Worcester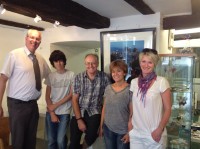 The Kings Gallery/Mango Juice merge together
Two Galleries in One
WHEN 'TWO' BECOME ONE .... Happy smiles as two successful art businesses merge together to create a new customer focussed experience. Mango Juice - Poppi Pribojaz has merged into The Kings Gallery - Terry Goodwin-Jones to offer unique art to suit all tastes and pockets. 10 New St, Worcester, Worcestershire, WR1 2DN
Telephone: 01905 611196
Bernie the Barber
BERNIE the BARBER
Looking Sharp Barbers
Bernie the Barber has arrived at looking Sharp Barbers in New Street, Worcester.
Bernie, originally from the city, has over 10 years of knowledge and experience in the hairdressing trade.
Specialising in all tapering and patterning and modern, creative and traditional styles, a haircut with Bernie is so much more; a friendly barber, good conversation, warm atmosphere, great hairdressing techniques, very affordable offering the best value for money as well as being Child Friendly.


Need a haircut, visit Bernie the Barber at Looking Sharp Barbers, New Street, Worcester.


Looking Sharp Barbers is open
Tuesday to Friday 10.00am to 5pm
Saturday 9am to 5pm
by appointment or just walk in.
Telephone: 07970 731576
The 'Looking Sharp' Barbers, New Street, Worcester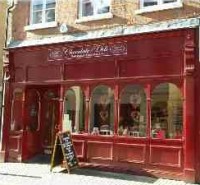 Chocolate Deli, New Street, Worcester
Chocolate Deli
Chocolate Deli at 53 New Street, Worcester, WR1 2DL have launched a series of courses designed for those who have a passion for chocolate.
The first course; 'Roll and Mould'
is a one day course for beginners who want to have some fun creating chocolate truffles.
The second course; 'Budding Chocolatier'
is for beginners who are really serious about Chocolate bordering on fanatical and want to learn the art of chocolate making and the basics required to become a chocolatier.
The third (evening) course; 'Tea and Talk'
is a special event for large groups, a minimum of 10 persons, who have a weakness for all things Chocolaty. With exclusive use of our cosy coffee lounge, your group will be treated to a talk by the 'Master Chocolatier' followed by a feast of Chocolate delights.
For more information on their NEW Chocolate courses,
contact Chocolate Deli, 53 New Street, Worcester, WR1 2DL.
Telephone: 01905 611324
Happy Christmas
HAPPY NEW YEAR TO ALL OUR CUSTOMERS
guest ale: Hobgoblin
The Pheasant, Worcester
The Pheasant in New Street, Worcester has both a new guest ale and a new selection of wines. The guest ale, Hobgoblin is a Ruby beer Alc.4.5% Vol and with a special offer on most of their new wines on Fridays between 5pm and 8pm, you can enjoy a bottle of wine for just £10.50.
Telephone: 01905 729862
Merry Christmas
On behalf of all the traders in New street Worcester, May we wish all our customers and readers a very peaceful Christmas and a Prosperous New Year.
Jumping Clay
Pictured (right) Tina from Jumping Clay, New Street,
Worcester getting ready for Christmas
Mess Free Clay Workshops
Join a JumpingClay workshop to create your very own little artwork, and get to know the friendly trio – Billy Ball, Daisy Drop & Sally Sausage. Suitable for all ages 3+.
In The Academy
A typical workshop is a fun filled hour and is run by trained instructors both at our academies and various locations around the country. Drop the kids off and enjoy a well deserved 1 hours down time.
Classes teach you your basic colours, colour mixing and introduce our basic shape characters – Billy Ball, Daisy Drop and Sally Sausage. The friendly trio are the first step into taking your imagination into palm of you hand.
Each participant will get to make & take their very own creation. All materials are included in the price and there is no need to fire or bake it afterwards, simply take it home that very day.
Telephone: 07969 159 936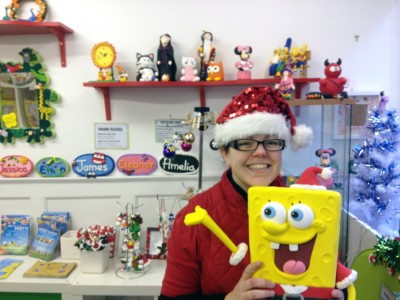 Tina, Jumping Clay, Worcester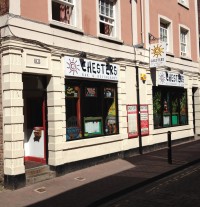 Chesters Bar and Restaurant
Chesters Restaurant Worcester
Chesters - modern and traditional Mexican cuisine


Specialising in modern and traditional Mexican cuisine alongside our trademark speciality Vegetarian and Vegan food.


We also offer a wide range of pasta, seafood, steak, burgers, chicken and pork dishes to suit all tastes.


Whether you choose to drop in for a beer and a snack in the bar or stay for the evening in the main restaurant, we have the right ingredients for a memorable night out.


Situated on two levels, but for the most part in extensive atmospheric cellars beneath New Street, Worcester, Chesters is the perfect venue for group parties of up to 22 people or a candle lit meal for two (and everything in between), all year round . . .


If you're not ready to eat, why not drop in and try some of our specialist beers from around the world in the relaxed atmosphere of the bar.


Lunch is served 11am - 5pm
Dinner served 5pm - 11pm
Chesters Bar and Restaurant,
51 New Street,
Worcester,
Worcestershire, WR1 2DL
Telephone: 01905 611638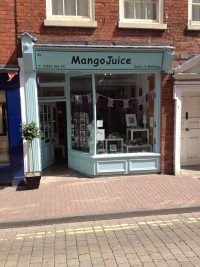 Mango Juice Celebrates 2nd Birthday
Mango Juice
MangoJuice in New Street, Worcester celebrates its second birthday today (1st November).
Mangojuice is a family run gallery established in 2011.
We offer an eclectic collections of arts and crafts made by UK based artists and craftspeople. The gallery is also the home of Mangojuice jewellery made in the tiny workshop in the far corner!
Call by and say hello!!!
​Mangojuice Gallery, 9A New Street, Worcester, WR1 2DN. Tel: 07834 283471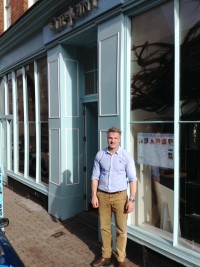 David Hoult - MD - Clip Joint Worcester
Clip Joint Worcester
David Hoult, Managing Director of Clip Joint in
New Street, Worcester reflects on his career in
creative hairdressing.
He started first at Transformers in Alcester, at the early age of 16, obtaining City and Guilds. He was trained by Dennis Key (who now works in California specialising in Alterna products) where he went on to manage a creative team specialising in Loreal products and organising sustainable image creation for models in the fashion industry including the face of Davines.
David joined Clip Joint in 1993 helping Martin Ward to run the salon. David then took over as Managing Director when Martin left to go to Ireland.
Following a salon refit last Summer, David is now strengthening his creative hair team for the next 15 years.
Why do customers keep returning to Clip Joint?
David says, "We're Real people, we understand that listening to our customers coupled with good conversation, leads to a great overall experience, where they can relax and have confidence in our professional ability"
Are you looking for bespoke hairdressing and beauty?
Visit Clip Joint
your very own
personal image consultants
Clip Joint, 27 New Street, Worcester, WR1 2DP. Telephone: 01905 27646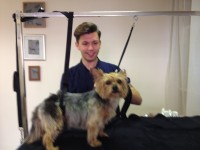 Specialist Dog Grooming
House of Dogs
HOUSE OF DOGS - Autumn/Winter Collection Announced
House of Dogs is pleased to announce its new Autumn/Winter collections have arrived including, Woolly Jumpers, Hoodies, Coats, Socks together with a new range of canine jewellery. Telephone: 01905 731645
A Date for your Diary: 17th November 2013 - Early Booking advisable to avoid disappointment
House of Dogs would like to welcome you to their premier photo shoot for your companion, presented by Worcester's Number One photo specialist, Max Speilmann.
Bookings are now being taken via House of Dogs for a valuable photo shoot with your dog or pet and if you fancy, we invite you to jump in and capture a lovely moment with your canine friend or pet that will last forever as well as making a unique Christmas gift.
All photographs taken on the day will be available to view from Monday 18th November at
Max Speilmann's studio in The Shambles, Worcester.
For more information on the Autumn/Winter Collection or the photoshoot,
telephone: The House of Dogs on 01905 731645